Categories:
Other Brands
Chanel is being innovative, the Diamond CC logo makes us go 'Wow'. We hope, of course, that this Diamond CC logo will become the next signature, so we can have more of that in the future. And if not, no worries, just make sure you grab one of these accessories as soon as possible – before the season ends. And if this Diamond CC logo gets discontinued, we will own a beautiful limited piece. Now introducing the Chanel Diamond CC Card Holder and Coin Purse from the Spring Summer 2018 Collection.
And oh yes, if you're interested, there is a Diamond CC WOC version as well.
The Design
If you're planning to get a cardholder or coin purse, then please hold! Let us tell you more about these heavenly-made beauties. First of all, this Card Holder and the Coin Purse is not a new design, the shape and the look is exactly the same like the Classic Card Holder And Classic Coin Purse. So what's new? The contemporary Diamond CC logo!
The center logo is diamond-shaped and then crafted with a CC in the center. The Card Holder and Coin Purse are also both built from metallic aged calfskin to match to the new logo design. And the results? It's shimmering, it's modern, it's luxurious and classic-looking.
Can you say no to that?
The Interior
We do not want to go into details about how the interior looks like. If you really want to know, you can visit our special pages: Chanel Classic Card Holder Interior and Chanel Classic Coin Purse Interior.
The Prices And Sizes
Chanel Diamond CC Coin Purse
Style code: A84507
Size: 3' x 4.3' x 0.8' inches
Prices: $500 USD, $590 CAD, €420 EUR, £375 GBP, $710 SGD, $3700 HKD, $680 AUD, ¥58320 JPY.
Chanel Ciamond CC Card Holder
Style code: A84522
Size: 3' x 4.4' x 0.8' inches
Prices: $450 USD, $535 CAD, €380 EUR, £340 GBP, $640 SGD, $3300 HKD, $610 AUD, ¥52920 JPY.
More Images And Colors
comnum(0) tbcount(0) tbcount(24)
Categories:
Other Brands
Gigi Hadid looks vampy on the June 2018 cover of Vogue Japan. For the newsstand image, the supermodel wears a leather Celine coat with a dark red lip color. Inside the fashion glossy, Gigi wows in black and white imagery captured by Luigi & Iango. Stylist Julia von Boehm dresses the blonde wearing designs from labels such as Helmut Lang, Gucci and Calvin Klein.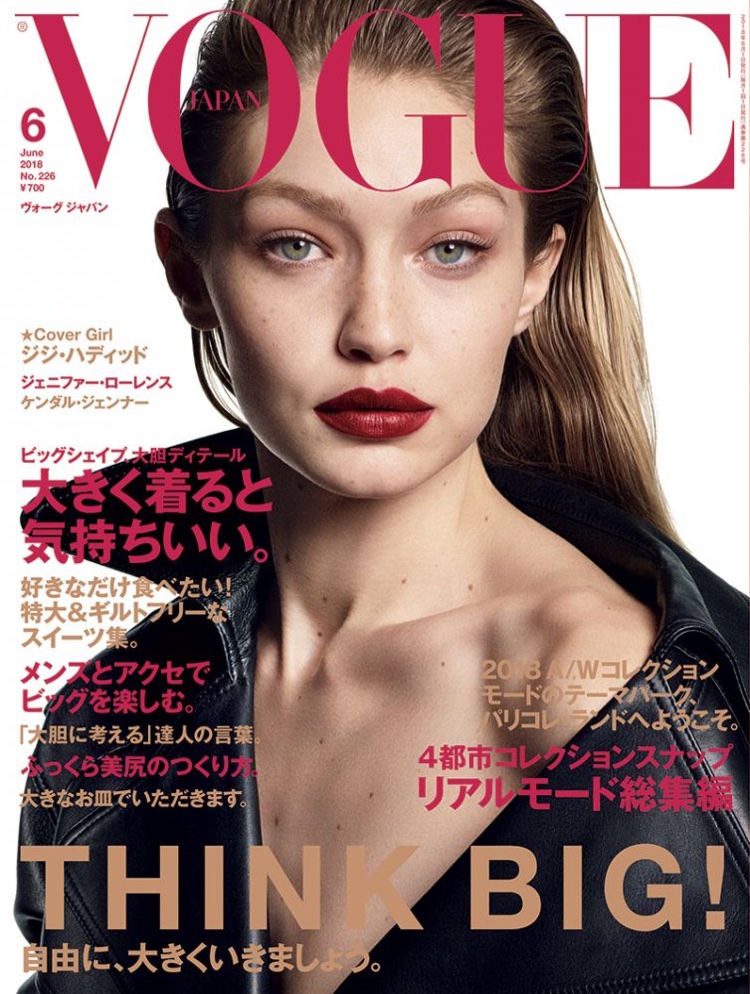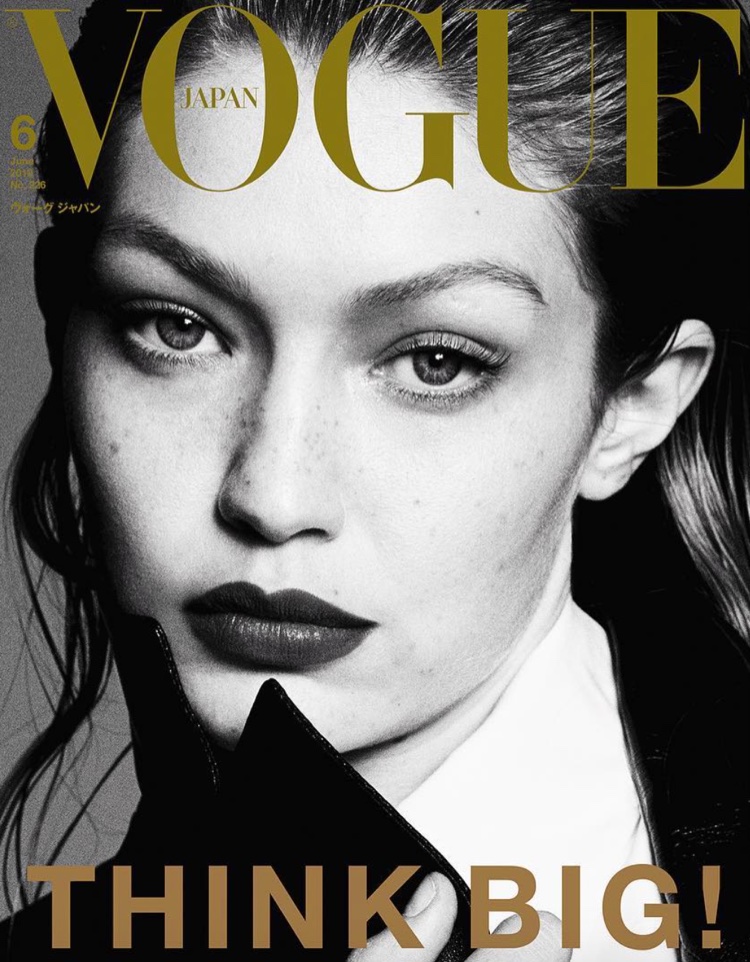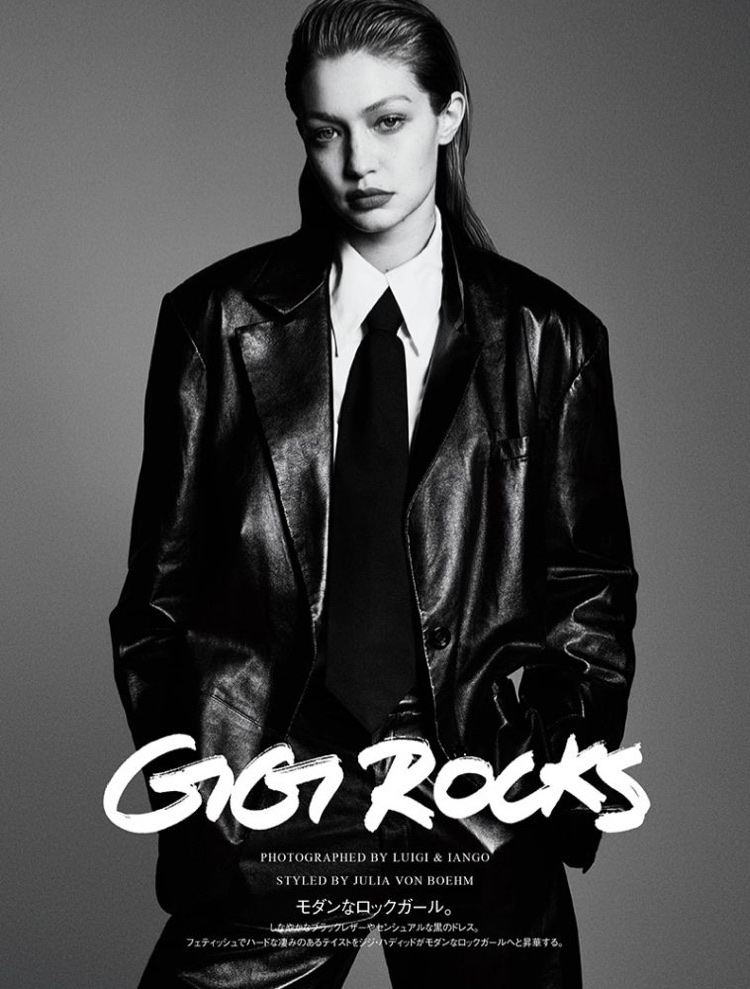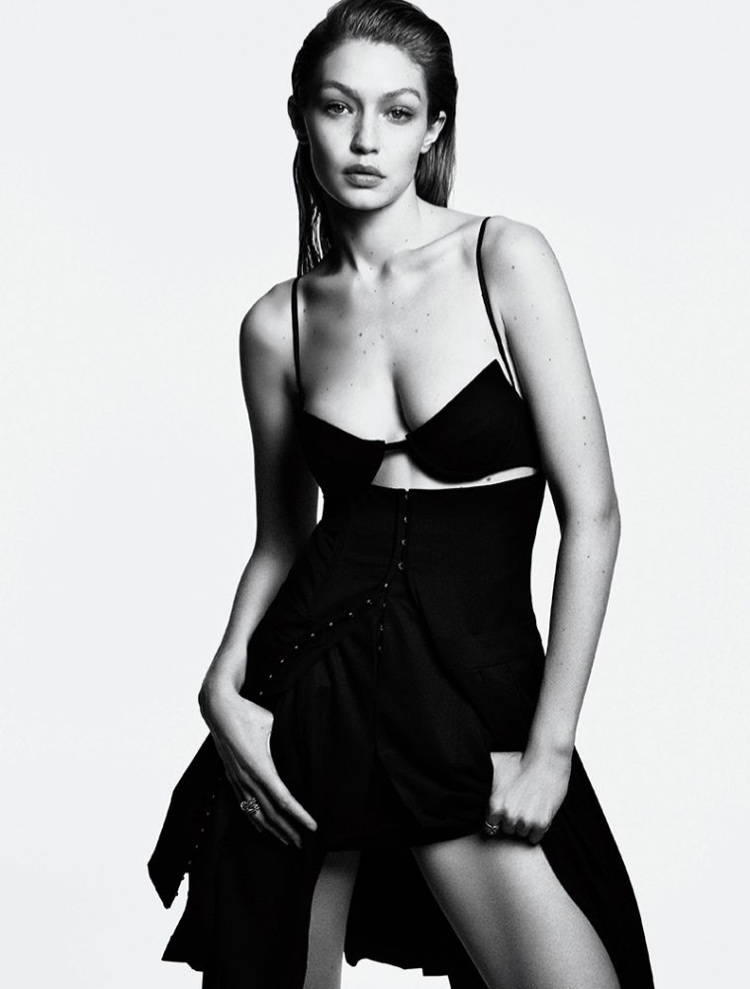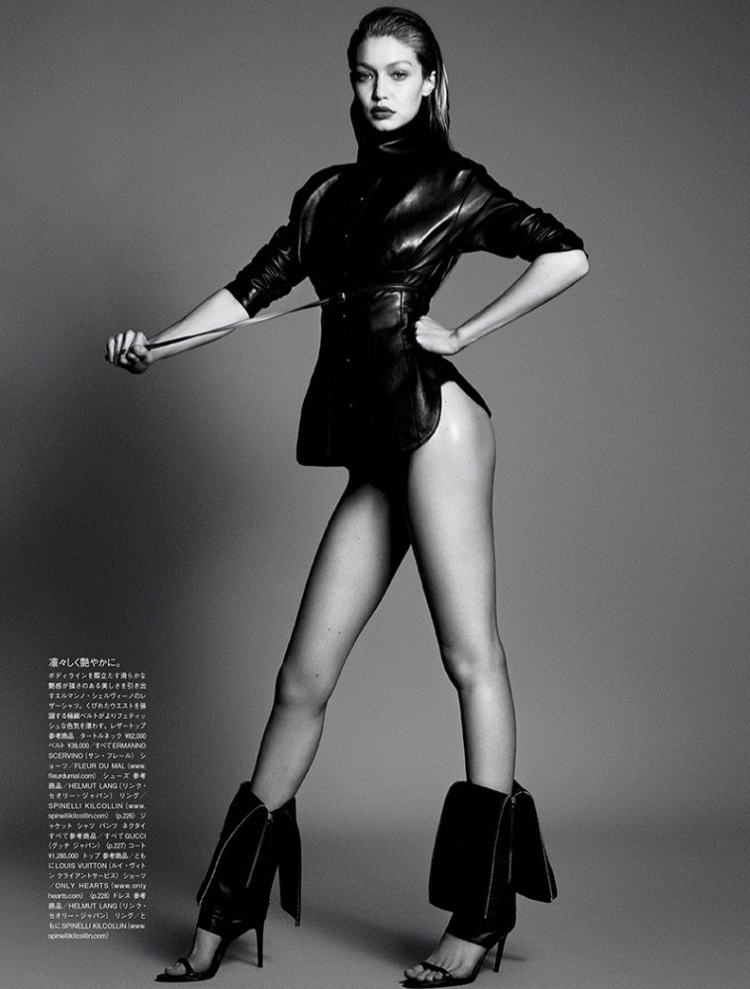 comnum(0) tbcount(0) tbcount(26)
Categories:
Other Brands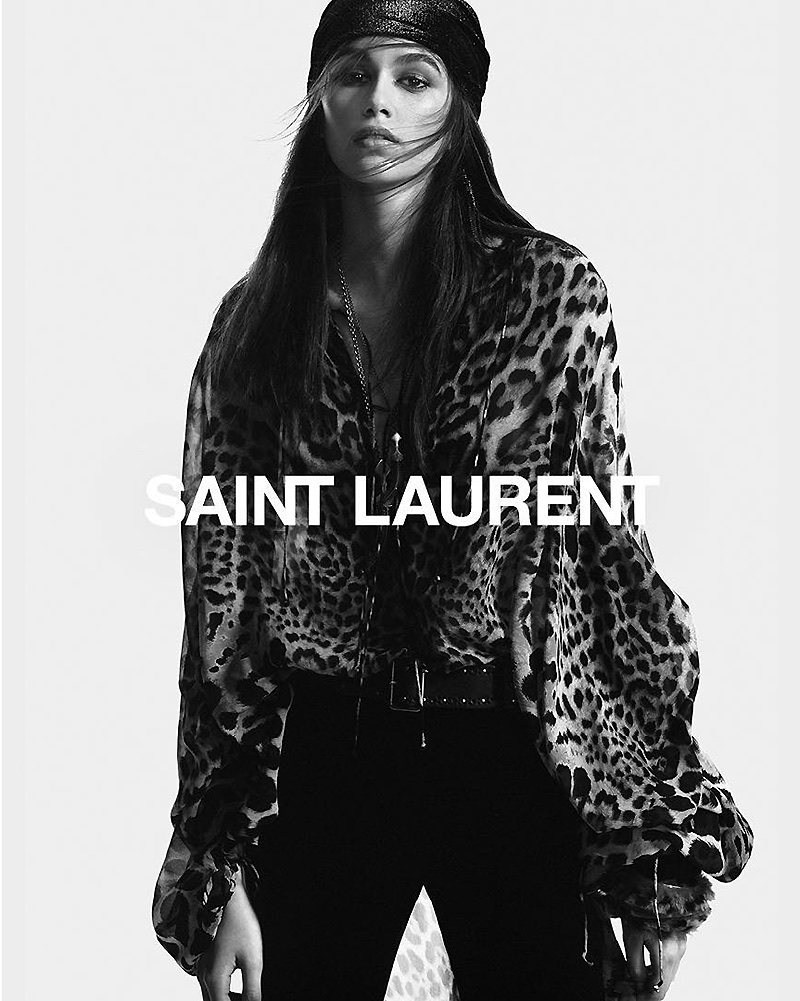 Kaia Gerber stars in Saint Laurent's fall 2018 campaign
Kaia Gerber's star only continues to rise. Saint Laurent tapped the 16-year-old as the face of its fall 2018 campaign. Photographed by David Sims in black and white, Kaia Gerber models rock and roll inspired fashions. Stylist Alastair McKimmdresses the brunette in leopard prints, casual denim and suede jackets. For beauty, Lucia Pica works on makeup with hair by Duffy.
Related: Kaia Gerber Rocks Casual Outfits for i-D
CAMPAIGN: KAIA GERBER FOR SAINT LAURENT FALL 2018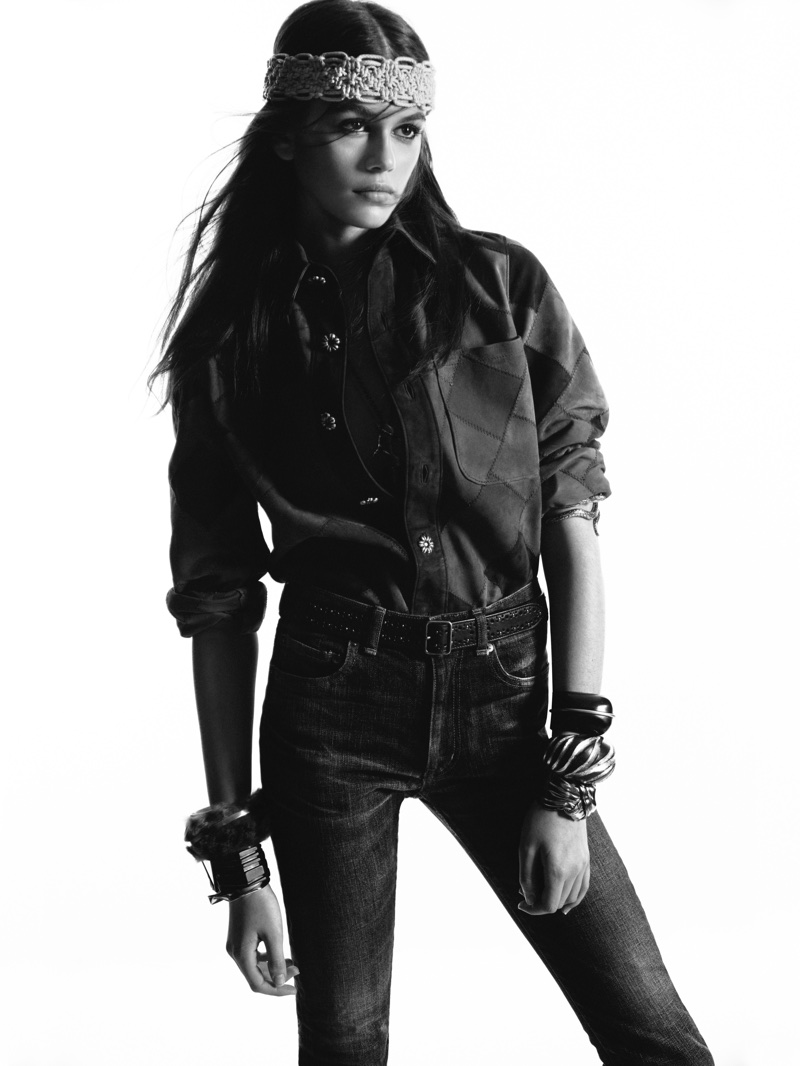 Saint Laurent taps Kaia Gerber for fall 2018 campaign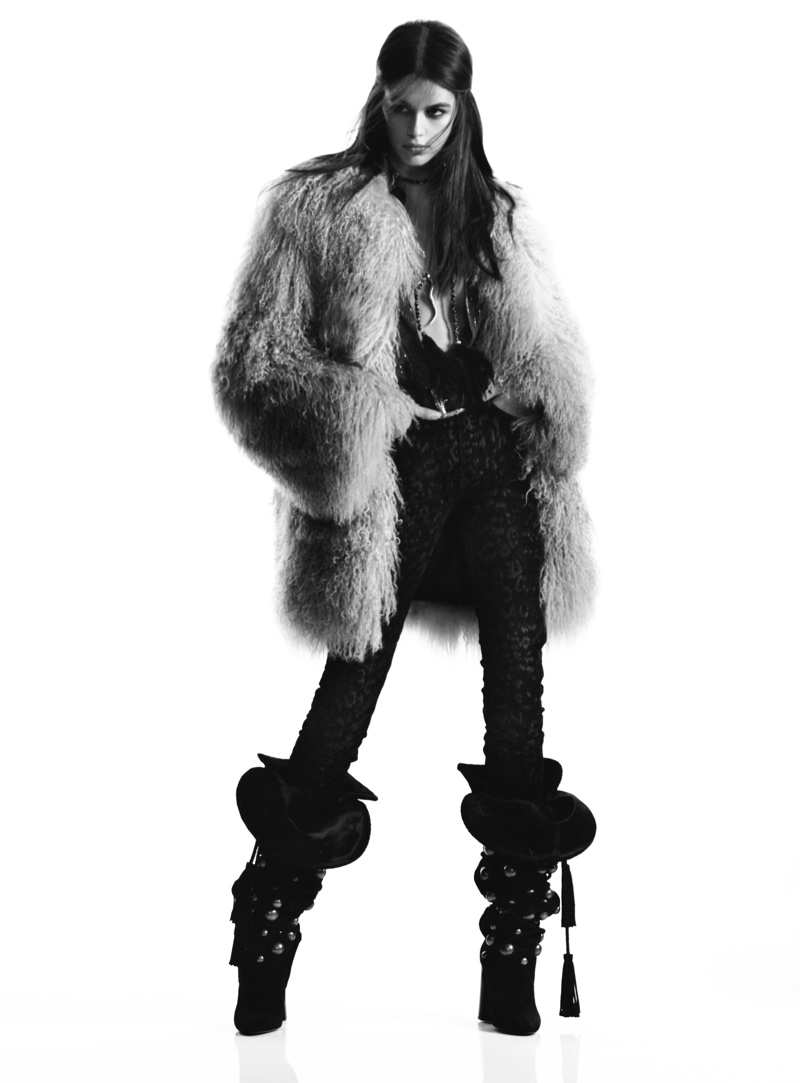 Model Kaia Gerber wears fur coat in Saint Laurent's fall 2018 campaign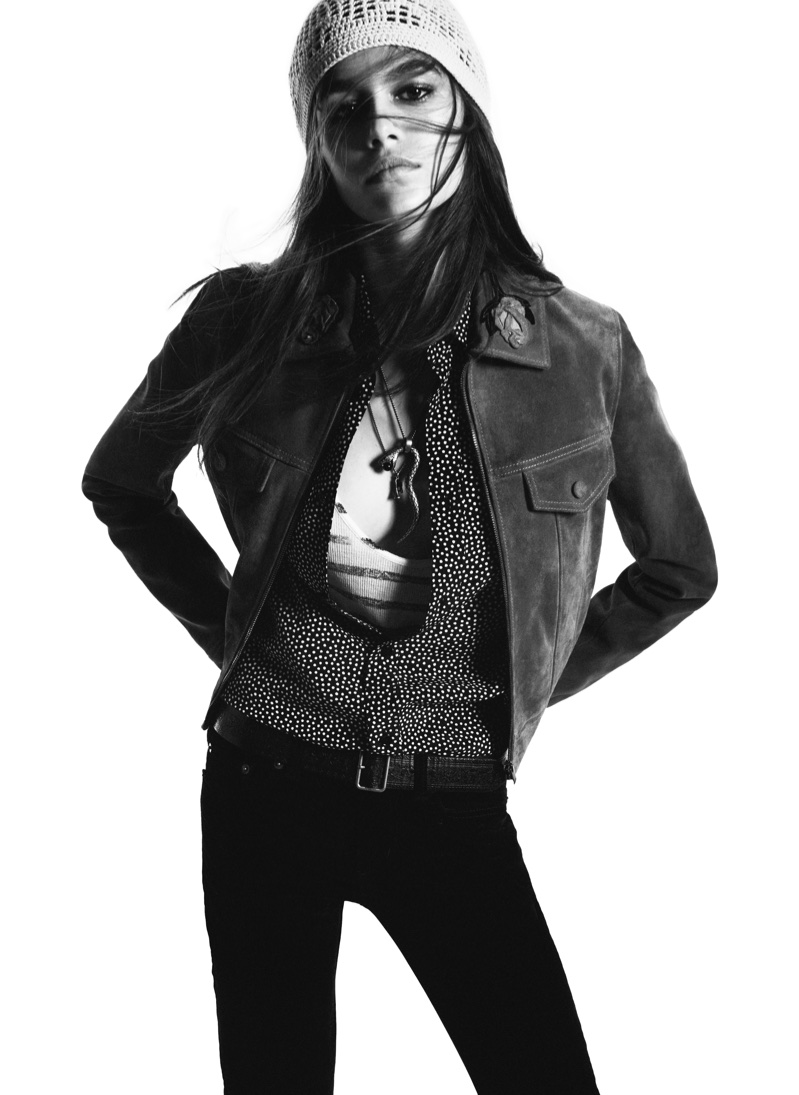 Kaia Gerber rocks denim for Saint Laurent's fall 2018 campaign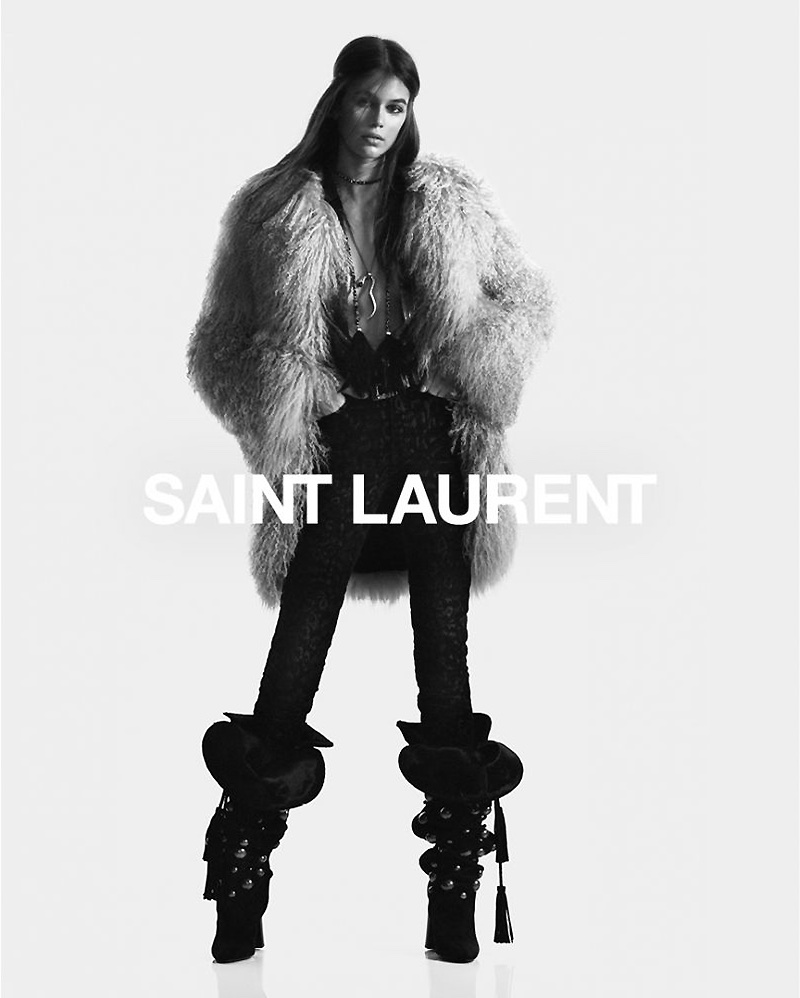 An image from Saint Laurent's fall 2018 advertising campaign
comnum(0) tbcount(0) tbcount(25)
Categories:
Other Brands
One after one irresistible handbags are popping out from nowhere. We have reviewed the Coco Quilted Bag, Deauville Camellia Bag, Classic Shoulder Flap Bag and it doesn't top. Today, we will be chit chatting about the Chanel Puffy Bag. So get your tea and cookies ready.
The Design
There is actually an older Chanel bag that's also called the Puffy Bag. But the one that you're now eyeing on is the modernized version and it's ready to become your baby. So what is Puffy all about?
Oh I like the name! Puffy means soft, round and light, and I can imagine. The Puffy Bag is not like the Classic Flap Bag, which is another plus. It's chevron quilted but done in an elegant way, because the center is divided with a straight-line, can you see that?
What's more? True to its name, the bag is indeed round and soft. And gladly, it's made from calfskin, which is also durable and strong.
The center features the smooth signature CC logo, but then again look closer. The middle of the logo is actually designed with a different color (same shade as the bag).
And besides all, it comes with the iconic woven chain leather strap for shoulder and cross body carry. But I'd love it because of the uniqueness, and I hope that there will only be limited available, so that it stays scarce.
And talking about the price, it's even cheaper than the Small Classic Flap Bag. Yep, isn't that a steal?
The Interior
So how does the interior look like? Well, sufficient space for everything. And it might be even better than the classic edition because there is just one big compartment, so you can organize your stuff as you like. And there is also a zip pocket for the important essentials like paper money or credit cards.
The Prices And Sizes
We do not have the style code, but we can share the current price. The measurement is comparable to the Small Classic Flap Bag and this handbag in small size is retailing for $3200 USD.
The Small Classic Flap Bag is now selling for $4700 USD. You see, this baby is much cheaper. And it's made from calfskin!
For as far as I know, this bag comes in white, black and navy.
More Colors
comnum(0) tbcount(0) tbcount(131)
Categories:
Other Brands
High-quality clip-in hair extensions are popular because of how easy they are to use. Change up your hairstyle or add volume and body with the right extensions. Clip-in extensions are versatile and affordable. With a little practice, you can learn to use them like a professional and enjoy the results every time you use them.
These extensions come in an array of weights, lengths, textures, and colors. Shop around to find the ones that best meet your needs. Usually, they come in lengths of 14 to 22 inches and in packages of 6 to 10 extension pieces.
Before you start using them, get familiar with how they work. The strips of individual hairs are called wefts. You might need to adjust the number of sets you buy to accommodate the thickness or style you are after. If your hair is thin, you may not use every single weft in a package. If it is thick, you may need more wefts to get a natural look.
Most sets come with test wefts. These are extensions that do not have clips attached to them. Use them to match them to your current hair color or help you choose a different hair color dye if you plan to dye them to match a new color that you have in mind. To install them, follow these steps:
STEP 1
Start with dry, tangle-free hair. Lay the extensions down flat on a clean surface. Comb them if necessary to remove any tangles. Place your fingers on either side of your hairline about an inch below your ears. Separate your hair at this place and then put the top layer into a clip. Note that most sets have about three wefts that are longer than the rest. These go on the back of the head.
Using the smallest of the wefts, take on and clip it onto your head at the back. Make sure the middle clip gets as close to your roots as possible. If you have fine hair, tease a section out first. This will help the weft remain secure and not fall out. Add hairspray to provide more traction and adherence. Natural hair that is very clean often needs the extra help from a few spritzes of hairspray.
Once you get the first clip in securely, work on adding the side clips. These go as close to your face as you can get them. Be sure the wefts do not bunch up at the top. The photo below shows the first weft after it has been installed. The hair is now ready for the second weft.
Photo: Pixabay
STEP 2
Now that the first wefts are in securely, take down half of your natural hair. Make sure it is free of any tangles. Take the next longest weft in the kit and attach it to your head the same way as you did the first weft. Start at the back of the head and attach the middle clip. Then, attach the remaining two clips to either side of your face. If your hair is fine or very clean, you may want to tease it or add hairspray where the clips go. The longest wefts are for the back of your head in most kits
Here are photos showing the side weft clipped in on the left and another side weft clipped in on the right.
STEP 3
Most clip extensions come with two or four wefts that are of the same width. These are the ones that are meant to be installed on the sides of your head. Pull your hair up and over and clip it out of the way. Pick up one of the side wefts and attach it as close to your face as you can. Do the same thing to the other side of your head using a weft of similar width. Clip the rest of the clips by installing them to the back of your head as far as the weft lets you.
STEP 4
After completing step 3 you should be left with two or four small, one-inch wide wefts. These are for the front of your head. These can be trickier to place and depend on the thickness of your natural hair. One way to install them securely is to let down all of your hair. Now clip in the wefts where you notice any gaps. Remember that these clips are meant to frame the face.
Lift a few inches of your own hair over the weft and clip the weft in so that it is covered with natural hair. Depending on your hair and the style you choose, you could also wear the three smaller wefts on one side of your head and the rest on the other.
comnum(0) tbcount(0) tbcount(132)
Categories:
Other Brands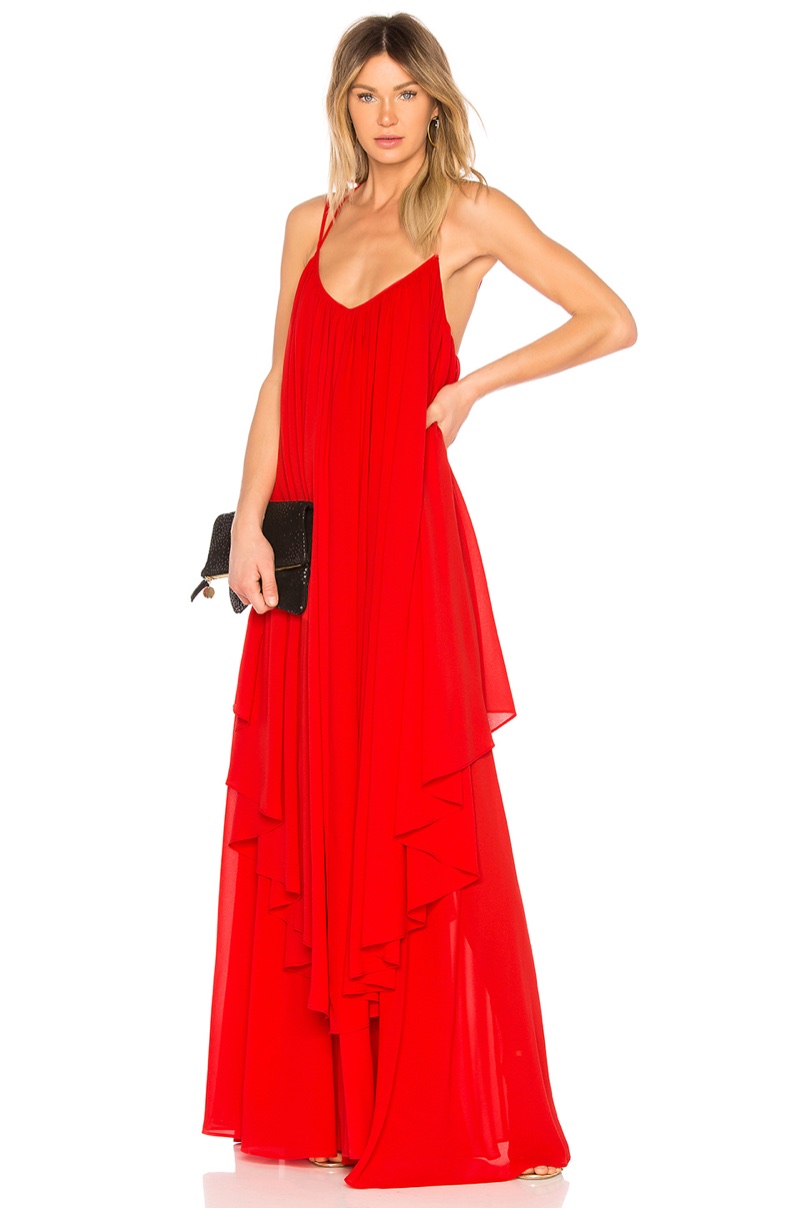 Michael Costello x REVOLVE 'Maren' Gown in Red $328
Look red-hot in a scarlet maxi dress featuring asymmetrical draping.
Following up a holiday capsule collection, designer Michael Costello teams up with REVOLVE once again for the spring 2018 season. In addition to party ready dresses, the collaboration also features bridal pieces. From form-fitting bodysuits to pleated gowns and flirty rompers, these designs will bring some serious color to your wardrobe. See some of our favorites from the Michael Costello line below, and shop more at REVOLVE.com.
Related: Likely x REVOLVE's Dreamy Bridesmaid Dresses
MICHAEL COSTELLO X REVOLVE SPRING 2018 COLLECTION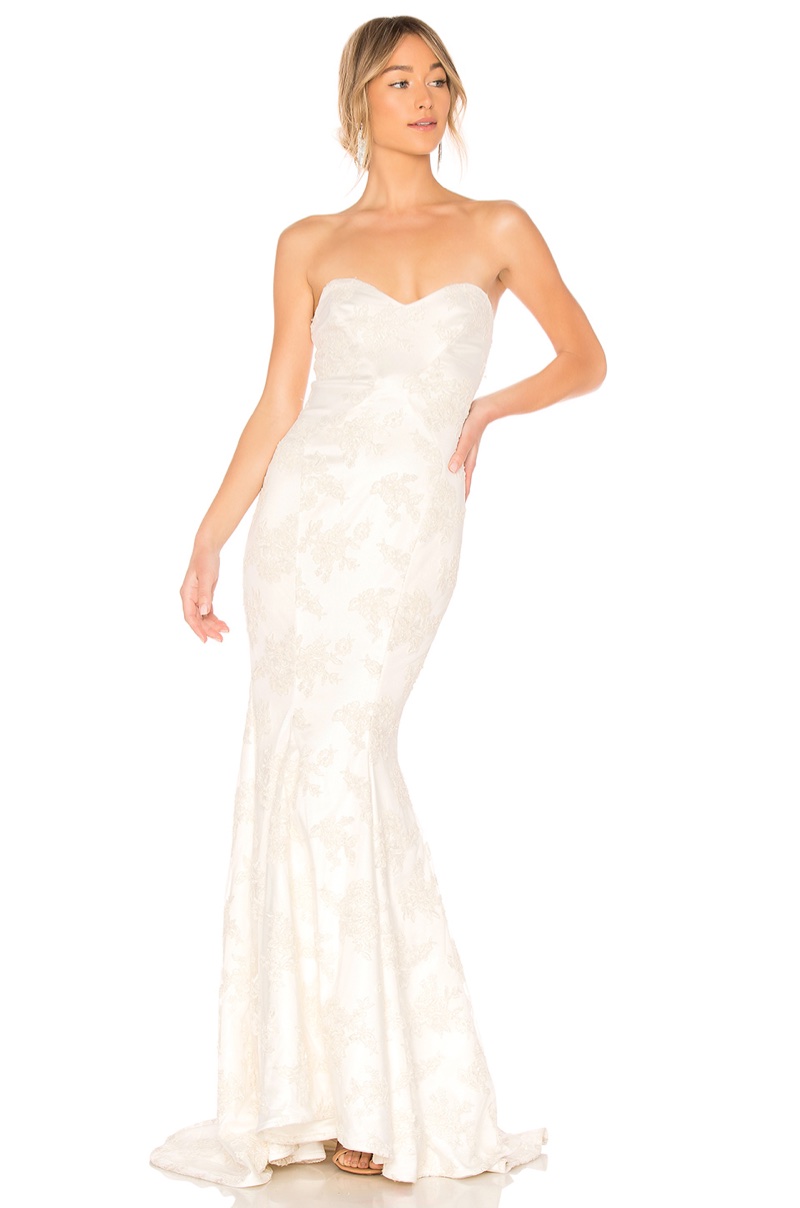 Michael Costello x REVOLVE 'Amelia' Gown $1,450
This ivory gown is perfect for your wedding day with tulle overlay and beaded floral appliques.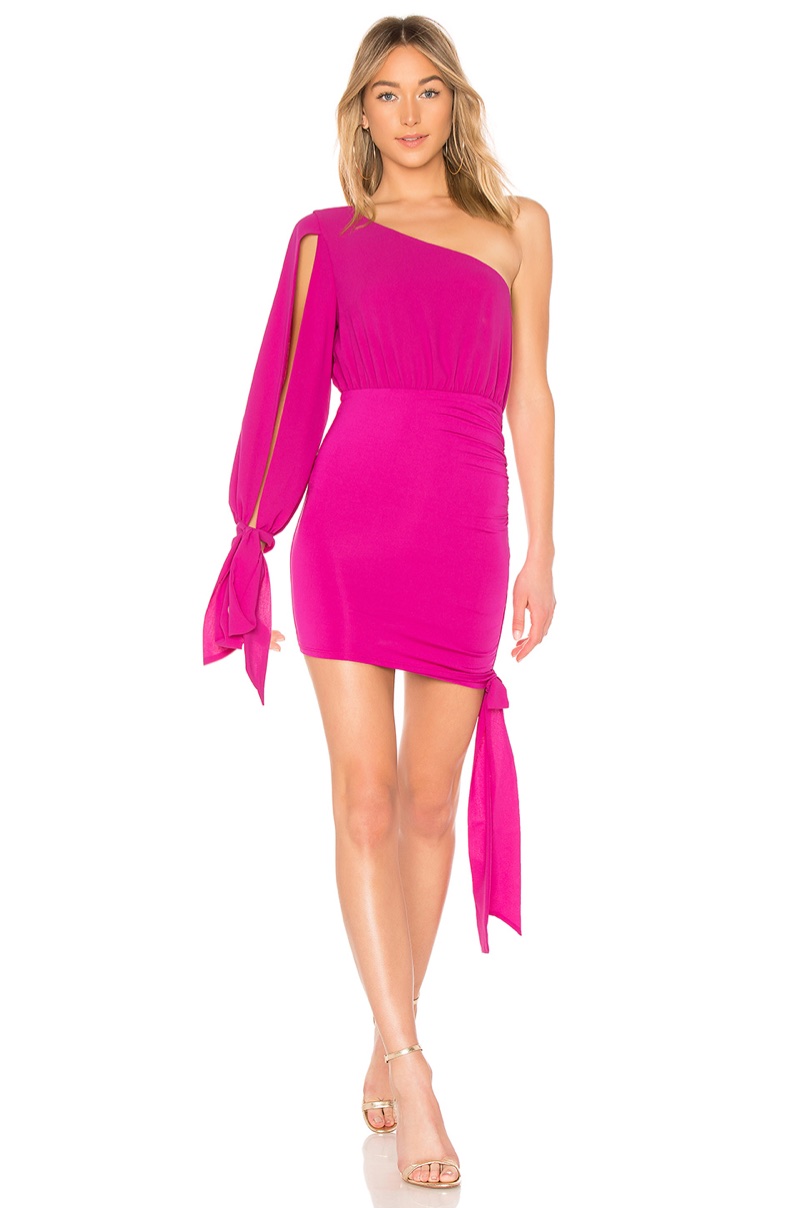 Michael Costello x REVOLVE 'Maybelline' Mini Dress in Magenta $188
An one-shoulder dress features a split sleeve with a ruched tie accent.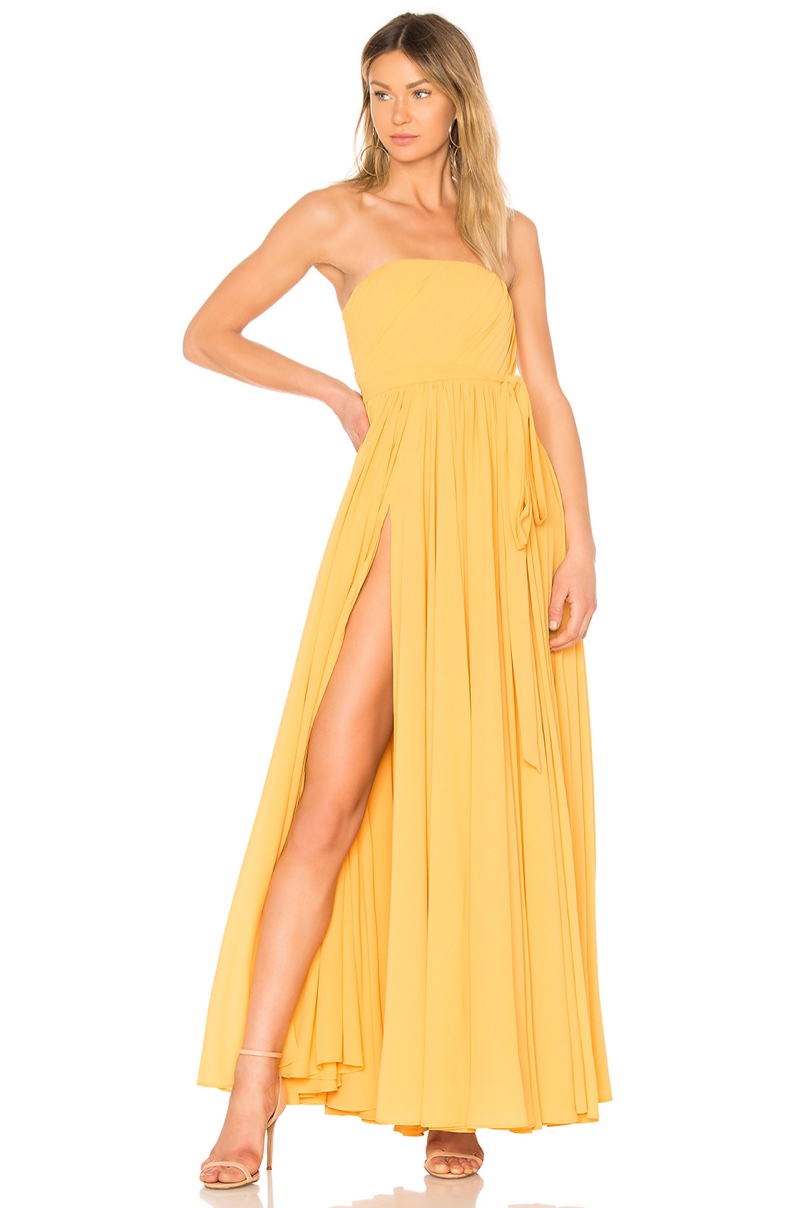 Michael Costello x REVOLVE 'Carrie' Gown in Yellow $358
Get ready for sunny days ahead in a yellow strapless maxi dress with a fitted bodice.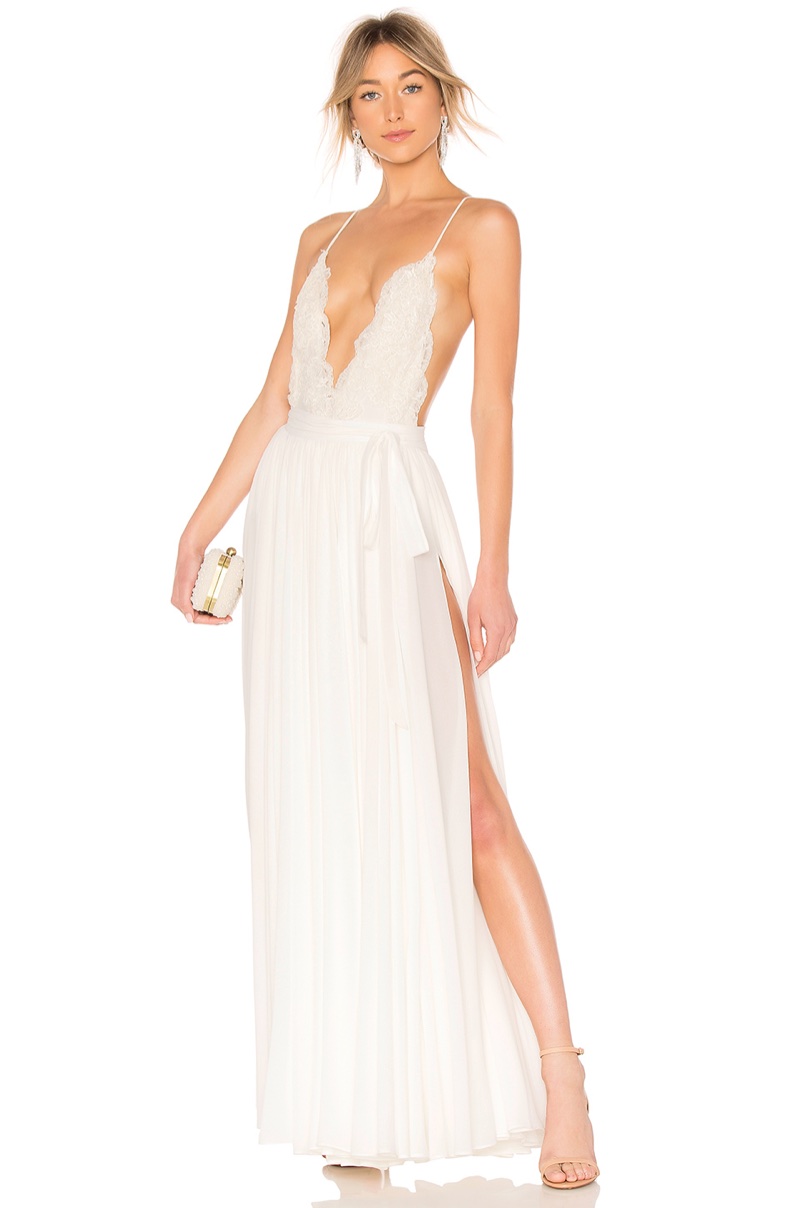 Michael Costello x REVOLVE 'Athena' Bodysuit ($258) and 'Athena' Skirt ($358)
Show some skin on your wedding day in a lace bodysuit and crepe de chine skirt.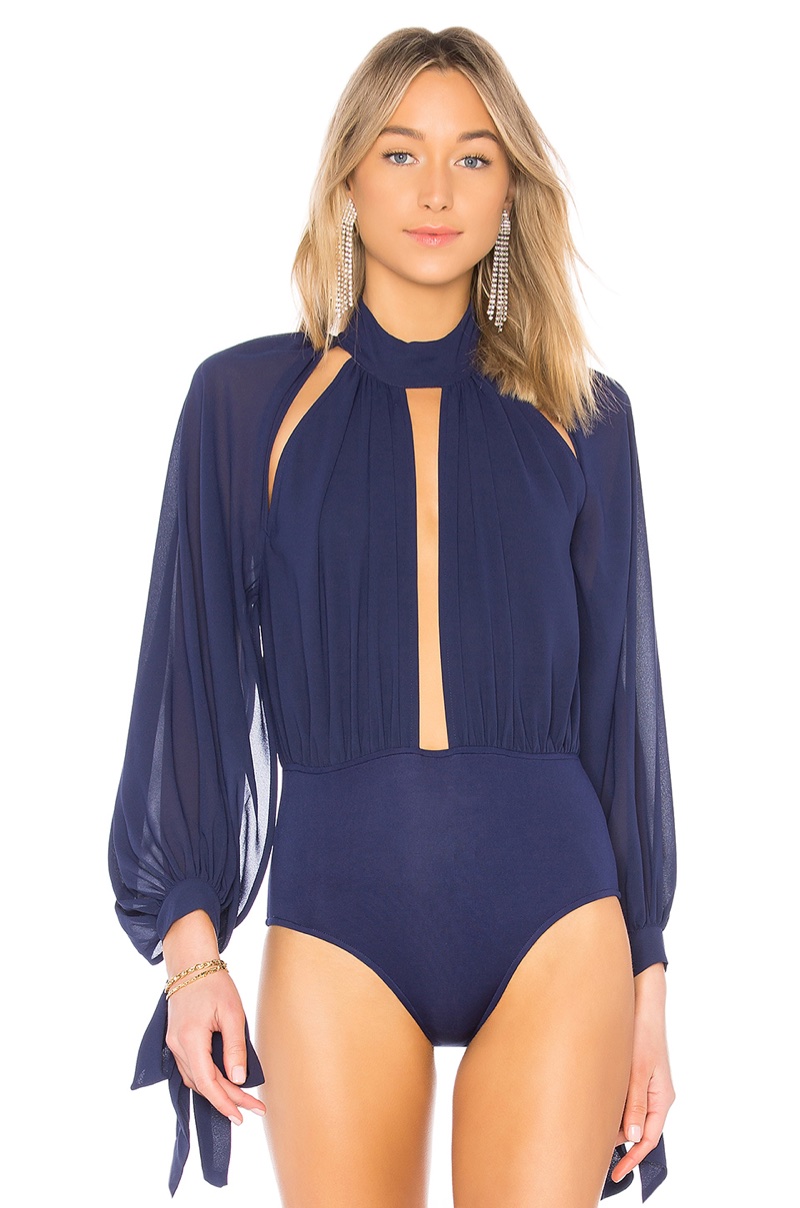 Michael Costello x REVOLVE 'Mason' Bodysuit in Navy $168
Wear this long-sleeved bodysuit with jeans or a flowy skirt for the perfect look.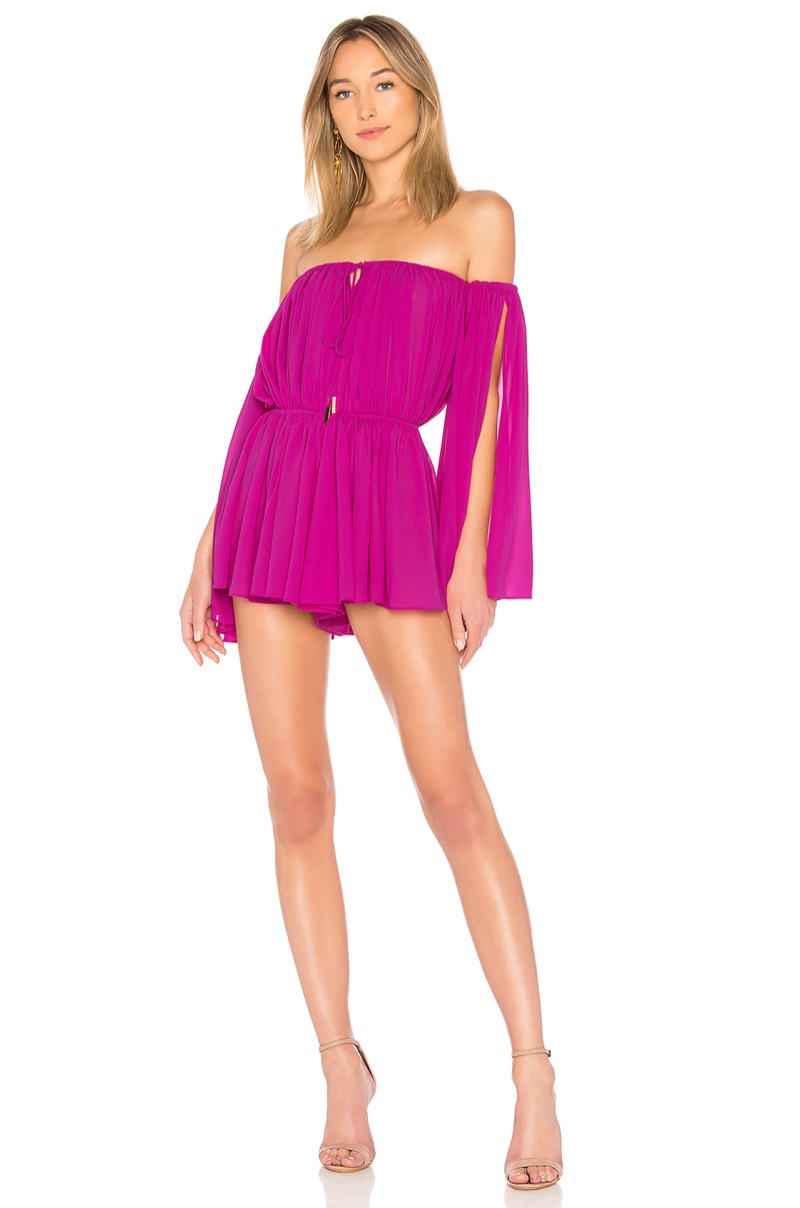 Michael Costello x REVOLVE 'Mishka' Romper in Magenta $198
Flaunt some shoulder in a magenta romper with pleated detailing.
Categories

New Posts

Hot Posts